Lot of people are not sure which is Airoli East side and which is Airoli West side.
Most of people coming from Thane west initially guessing it according to Local Train track and was confused with the East and west.
It does involve train track and a main highway though.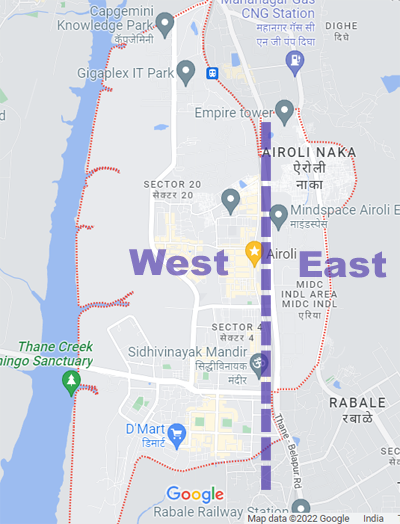 Airoli West
The side where most of the residential apartments are present, is a west side.
The Best Bus depot, Sec-5 Petrol Pump, Airoli-Mulund Bridge, All Sectors (1 to 20) are on west side of Airoli.
Following areas also come under Airoli West
Shivcolony
Airoli Naka
Samta Nagar
Sector-1 to Sector-20
Airoli Gaon
Datta Meghe Engineering College
Fire Brigade
Dmart Airoli
MSEB Airoli
Capegemini West

Airoli East
The side where Times of India Company, Chinchpada and Reliable Tech Park situated is East Side.

---
About Airoli | How to reach Airoli?